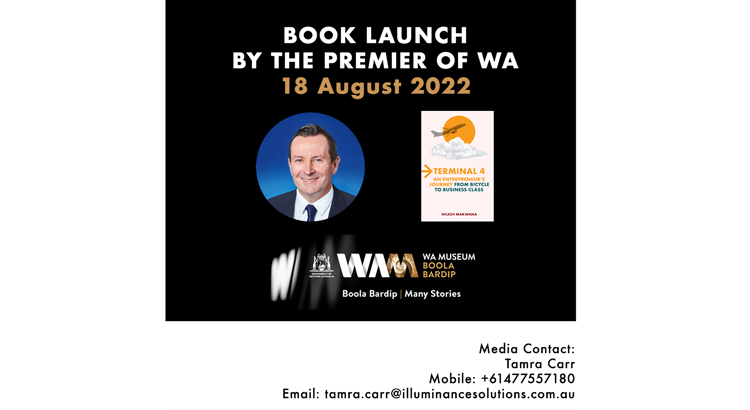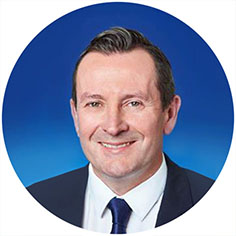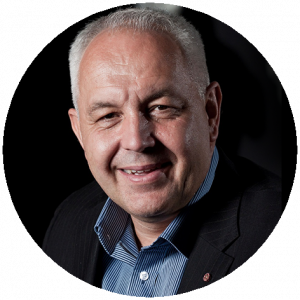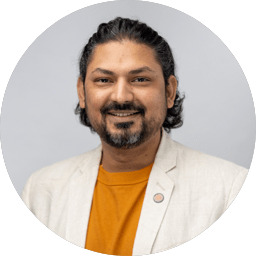 A new book being released this month "Terminal 4 – An Entrepreneur's Journey from Bicycle to Business Class" tells the inspirational rags to riches story of WA based Author Nilesh Makwana. 
The book charts the course of Nilesh's life from migrant and international student to successful entrepreneur with a passion for social impact. 
Premier Mark McGowan will officially launch the non-fiction book at the WA Museum Boola Barlip this Thursday, August 18 at 5pm. 
India-Australia relations and the important contribution overseas students make to the WA economy are an important part of the story. 
The Premier said he was delighted to support Nilesh's book launch, which celebrates our deepening relationship with India and the contributions of Indians and other migrants to WA. "Nilesh's story is truly inspirational, and an example of the positive impact Indian migrants have made to not only WA's business community, but the wider local community," Premier McGowan said. 
The Perth launch of the book follows a July event in India, which saw "Terminal 4 – An Entrepreneur's Journey from Bicycle to Business Class" launched to an Indian audience as part of a WA Government Trade Mission to India. The book has already achieved bestseller status in India and is on-sale in Indian Airports. 
India is Australia's second largest international student market and has been flagged as critical to supporting Australian universities and re-energizing the economy post pandemic. 
Nilesh said he was honoured to have the Premier launch his book and was humbled by the support and encouragement shown to him by the State Government. 
"The Premier's support for my book, and my goal of creating a more inclusive and harmonious society, means the world to me, and will hopefully encourage closer economic and cultural ties with India; it gives me great hope for future relations between two countries I love," Mr Makwana said. 
A documentary film based on the book is also in the works; an Australian-Indian collaboration between HALO Films, Life Films Director Scott Quayle, Indian Author Mr Manuraj Dubey and four-time Emmy Award Nominee Leighton de Barros. 
Terminal 4 – An Entrepreneur's Journey from Bicycle to Business Class is Nilesh's first book. 
The Premier will be joined at the launch by Chief Scientist of WA Professor Peter Klinken, CEO of WA Museum Alec Coles and many other special guests. 
ENDS.
About Nilesh Makawana 
Indian-Australian Nilesh Makawana is a public interest technologist and digital inclusion activist who has made a name for himself in Australia by launching multiple community exhibitions and conferences, as well as delivering free digital literacy training for indigenous communities and people with disabilities. 
Nilesh is also a fierce diversity advocate who purposefully trains and hires demographics that face barriers in the job market, including mothers re-entering the workforce, refugees, new migrants, people with disabilities and Australia's Indigenous and Torres Strait Islander community. 
His efforts have earned him multiple global and national awards, including being named Microsoft Global Partner for Social Impact in 2019, a 2020 Partner of the Year Healthcare Award, Business Award winner in the Western Australian Government Multicultural Awards 2021 and was announced as a 2021 Australia Day Council Auspire Ambassador. 
Nilesh has been recently appointed by the ICC as a T20 World Cup Champion for his advocacy work surrounding diversity and inclusion in WA. 
Contact Nilesh's PR & Communications Manager Tamra Carr on email: tamra.carr@illuminancesolutions.com.au or phone +61477557180 to request review copies, extracts, interviews + content pieces.